Networking has always been an essential part of the business world. Be it for generating leads, finding potential clients, or even seeking employment opportunities; networking is what helps you establish meaningful connections in your industry. However, with everything going digital and sustainable these days, traditional visiting cards seem to be falling behind. That's where Digital Visiting cards come into play! In this blog post, we'll explore how they can help you create a lasting impression on people while ensuring sustainability and convenience - making them the ultimate solution for smart and sustainable networking!
What is a Digital Visiting Card?
A digital visiting card is an online platform that allows you to share your contact information with others in a quick, easy, and efficient way. It's a great solution for smart and sustainable networking!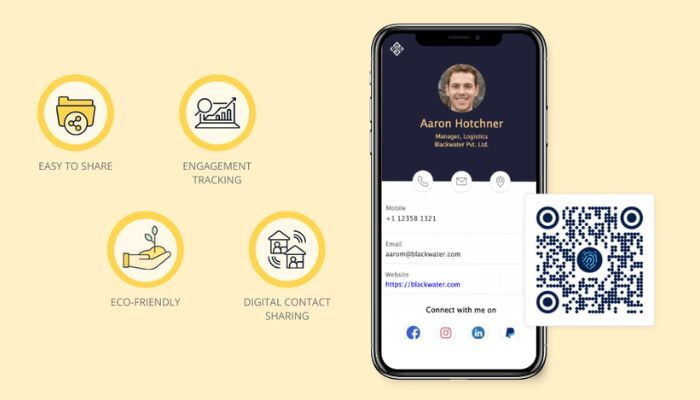 Benefits of Using a Digital Visiting Card
There are many benefits of using a digital visiting card, which include:
They are more sustainable than traditional paper cards, as they can be reused and recycled.
They are more cost-effective, as you do not need to print them or buy new ones every time you run out.
They are more convenient, as you can easily store them on your phone or computer and access them whenever you need them.
They allow you to share more information than a traditional card, such as your social media links, website, and email address.
They look more professional and modern, which can help you stand out from the competition.
How to Create and Share Your Digital Visiting Card
If you're looking for a smart and sustainable way to network, then a digital visiting card is the perfect solution. Here's how to create and share your own digital visiting card:
Create your card using a free online service like ConnectvithMe.
Make sure to include all your relevant contact information, such as your name, email address, and phone number.
Add a photo of yourself and/or your company logo to make your card more personal and memorable.
Share your card with potential contacts via email, social media, or QR code.
Follow up with new contacts after exchanging cards to solidify the connection.
Tips for Making Your Digital Visiting Card Look Professional
If you're looking to make a good impression with your digital visiting card, there are a few things you can do to make it look professional. First, choose a high-quality template or design that looks clean and polished. You don't want something that looks like it was made in a hurry or is too busy. Second, make sure your contact information is up-to-date and accurate. Third, include a headshot or other professional photo if possible. Fourth, use proper grammar and punctuation, and proofread your card before sending it out. By following these tips, you'll be sure to make a great impression with your digital visiting card!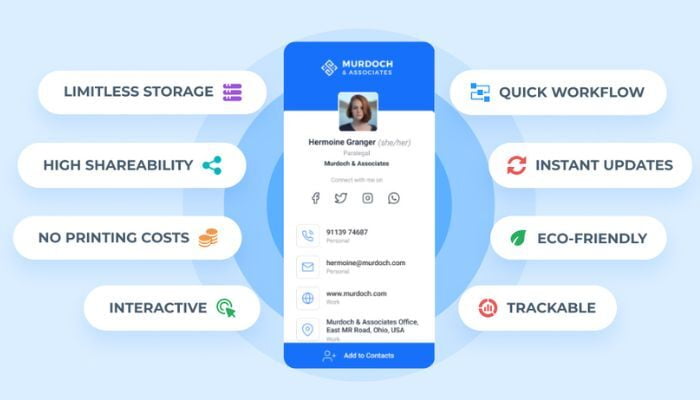 How to Use a Digital Visiting Card for Networking?
If you want to make a good impression and be remembered by the people you meet, you should consider using a digital visiting card. If you're not sure what that is, it's basically an electronic business card that can be stored on your smartphone or another digital device.
There are many advantages to using a digital visiting card over traditional paper business cards. For one, they're more environmentally friendly since there's no need to print them out. They're also much more convenient to carry around since they take up virtually no space. And if you lose your digital visiting card, it's easy to replace since all you need is the information stored on your device.
To use a digital visiting card for networking, simply open the app on your phone and select the card you want to share. Then, hand your phone to the person you're meeting and let them scan the QR code or enter the URL into their browser. The person will then have all of your contact information stored on their phone so they can easily get in touch with you later.
Digital visiting cards are a great way to network smart and sustainably. So next time you're at a networking event, make sure to ditch the paper business cards and go digital!
ConnectvithMe Best Way to Create Digital Visiting Card
Digital visiting cards are the new way to network. They're smart, sustainable, and convenient. And ConnectvithMe is the best way to create and manage your digital visiting card.
Here's why:
ConnectvithMe is the simplest and most user-friendly digital visiting card solution out there. Creating your card takes just a few minutes, and you can easily update your information anytime you need to.
ConnectvithMe automatically syncs with your existing social media accounts, so you don't have to worry about manually updating your information across multiple platforms.
ConnectvithMe cards are eco-friendly - there's no need to print them out on paper! And they're also more convenient than physical cards since they can be easily shared electronically with anyone you meet.
With ConnectvithMe, you'll always have your digital visiting card with you - just pull it up on your phone or tablet whenever you need it. No more fumbling around for a physical card in your wallet or purse!
ConnectvithMe offers premium features that let you customize your card to match your personal brand. You can add a photo, change the colors and layout, and even include a QR code that links to additional information about you online.
If you're looking for the best way to create and manage your digital visiting cards, look no further than ConnectvithMe!