If you've been to a networking event or business conference, chances are you've come across someone who hands you their business card. And while paper business cards are still commonplace, there's a new type of business card that's quickly gaining popularity: the electronic business card, or e-card.
E-cards are digital versions of traditional paper business cards. They can be stored on your smartphone or tablet, and shared with others via email, text, or social media. E-cards are convenient, eco-friendly, and easily customizable - perfect for businesses and professionals who want to stand out from the crowd.
So what exactly is an e-card? An e-card is essentially an online business card that can be stored on your device and shared electronically. You can create an e-card using a ConnectvithMe app.
Once you have your e-card ready to go, you can start sharing it with others! When exchanging contact information with a new acquaintance, simply pull up your e-card on your phone and have them scan the QR code or input your unique URL. Your e-card will pop up on their screen, and they'll be able to save your contact information directly to their device. No more fumbling around with paper cards - now exchanging contact information is quick and easy.
Benefits of Electronic Business Cards
There are many benefits of using electronic business cards over traditional paper cards. Perhaps the most obvious benefit is that they are more environmentally friendly since there is no need to print them out. They also take up less physical space, which can be important if you are tight on storage space in your office or home.
Another key benefit is that you can easily update your contact information on an electronic business card, without having to reprint a whole batch of new cards every time you make a change. This can be a big time- and money-saver, especially if you have a lot of contacts. You can also include additional information on your electronic business card that might be difficult or impractical to include on a paper card, such as links to your website or social media profiles.
Overall, electronic business cards offer many advantages over traditional paper cards, both in terms of their environmental impact and their convenience and flexibility. If you haven't already made the switch, it's definitely worth considering!
How to Create Electronic Business Cards
In a world where we are increasingly reliant on technology, it only makes sense that business cards would go electronic. Not only is this better for the environment, but it also allows you to keep track of your contacts in a more efficient way. And with so many people now using their smartphones as their primary means of communication, an electronic business card is more likely to be seen and used than a traditional paper card.
So how do you create an electronic business card? The first step is to find a reliable and easy-to-use service that offers this type of card. We recommend using ConnectvithMe, as it offers a wide range of customizable templates that you can use for free. Once you have found a service that works for you, simply input your contact information and choose a design that represents your brand well. If you have any special skills or services that you want to highlight, be sure to include them on your card!
And there you have it—your very own electronic business card! Be sure to save it somewhere safe on your device so you can access it easily when needed, and don't forget to update your contact information whenever it changes.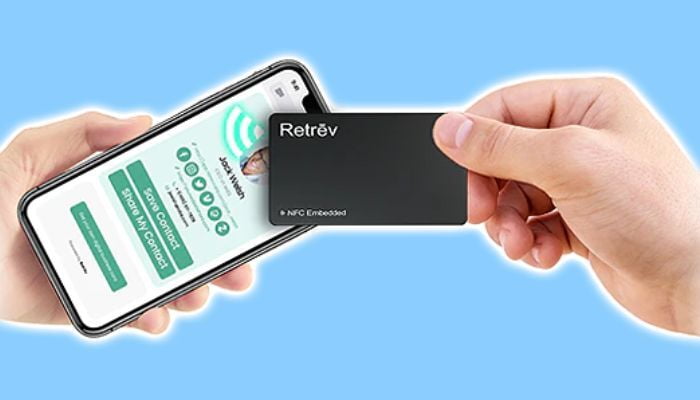 Features of Electronic Business Cards
Most electronic business cards contain the same basic information as their paper counterparts. This usually includes the cardholder's name, title, company name, contact information, and sometimes a headshot or logo. However, electronic business cardsalso have some additional features that make them more dynamic and interactive.
Some electronic business cards allow you to include a video or audio greeting. This can be a great way to make a personal connection with potential clients or customers. You can also use your electronic business card to share links to your website or social media profiles. This makes it easy for people to connect with you online.
Another great feature of electronic business cards is that they can be updated in real-time. This means that if you change your contact information or add new products or services, you can update your card instantly. This is much easier than having to reprint paper cards every time something changes.
Finally, many electronic business cards allow you to track when and where they are shared. This can be a valuable metric for gauging interest in your business. It can also help you follow up with contacts who might not have otherwise been reached.
Design Tips for Engaging Electronic Business Cards
When it comes to designing your electronic business cards, there are a few things you should keep in mind to make sure they are engaging and effective. Here are some tips:
· Use high-quality images and graphics: This will help your card stand out and look professional.
· Keep the design simple: Too much information can be overwhelming and difficult to digest. Stick to the basics like your name, contact information, and logo.
· Make use of whitespace: Don't be afraid of empty space on your card. It can actually help make the overall design more effective by giving the eye a place to rest.
· Use color wisely: Too much color can be distracting, so use it sparingly and only for accent elements.
· Consider adding a QR code: QR codes are becoming increasingly popular and can be a great way to offer additional information or resources to recipients of your card.
ConnectvithMe Best Way to Create Electronic Business Cards
If you're like most people, you probably have a drawer (or two) full of business cards that you've collected over the years. But let's face it, in today's digital world, paper business cards are becoming a thing of the past. Fortunately, there's a new way to exchange contact information that's not only more environmentally friendly but also more convenient and reliable - electronic business cards.
With ConnectvithMe, creating an electronic business card is easy and only takes a few minutes. Plus, our platform is designed to help you manage your contacts and keep track of your interactions with them. So say goodbye to paper business cards and hello to the future of digital networking!